We're ready to
take on the challenge!
First Clarity supports and improves the performance of our clients through our three disciplines, integrated in a service offering of consultancy, project delivery, and managed services & hosting.
From industry leading tools and methodologies which suit the client's needs, to ensuring design, delivery and implementation of innovative IT programmes, we help to translate IT strategy into real competitive advantage to our clients business.
Our three core areas of expertise alongside our manner of selecting and applying those capabilities reflect the invaluable opportunity our clients have to engage customers in digital market place.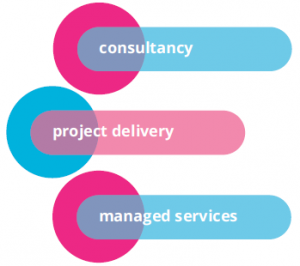 We work across multiple industries, delivering information-based, technology-enabled services as a strategic asset which exceeds our clients' expectations by delivering real and measurable outcomes. It's the understanding of our clients' needs through constant communication from the beginning to the end of a project that helps us deliver the best results.
We consult, design and build solutions across a broad range of areas, from application packages, website rebuilds, to custom solution delivery, depending on your business needs. Our project management and technology expertise enable us to offer expert advice throughout programme delivery from the earliest strategic stages to rollout and management.
Our cutting-edge technological approcah is delivered thanks to our established network of strategic alliances with the world's leading providers
Ready to get started?
When you work with us, you know you're getting highly qualified professionals who have the expertise and experience to make sure your project is done properly and functions.