Enabling Real
Savings for shoppers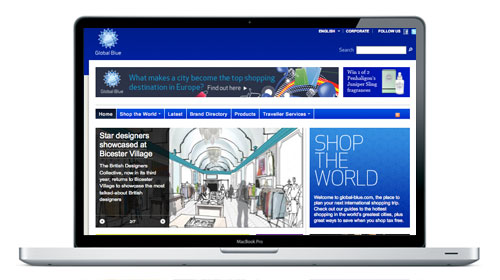 The problem
Global Blue is one of the world's leading suppliers of tax-free shopping information, sales tax refunds for tourists and dynamic currency conversion between shoppers, banks and merchants. They called on First Clarity to provide consultancy on its digital strategy and then architect, develop and maintain five high-availability websites.
The solution provided by First Clarity
First Clarity's tasks were:
1. web website redesign and rebuild with a specific focus on being CMS driven and integrated to third parties such as analytics and mobile usability
2. data migration and transformation from the pre-existing platform.
Application Design and Development
Business Requirement Analysis
CMS Development with Software houses such as Escenic
Functional and Non-functional Testing
Hosting – Applications and Websites
Technology Architecture Design
IT Strategy Consultancy
Information Architecture
Managed services to host and maintain customer sites and services
Performance Testing
Project and Programme Management
Website Design, Development and On-going Support
Websites incorporating external content from third parties as well as internal site development
Video based services in Flash, windows media formats
The Technology
First Clarity chose Escenic because of its component-based architecture, specifically its widget-build framework websites.
Ready to get started?
When you work with us, you know you're getting highly qualified professionals who have the expertise and experience to make sure your project is done properly and functions.