Helping to support
your business
Our IT Suppport Team is friendly, transparent and timely with our clients. Using their technical know-how they pro-actively deliver the best results to our customers.
At First Clarity we pay close attention to our client's project. From inception to completion we take complete responsibility to ensure your web service is fully operational, delivering and working in response to your requirements. No matter the size of your business, we realise the importance of effective and efficient technology for your brand. Our ethos is to offer market-leading IT services which position you at the forefront of your competitors.
First Clarity AWS Managed Services
Our Amazon Web Services experts will ensure you get added value from Amazons amazing Cloud platform. With our fully managed services, we'll take full ownership of your transition from on-premise to AWS and provide ongoing day-to-day management and consultation. As part of our Fully Managed Service, we provide ongoing strategic advisory services in order to continuously improve your AWS solution beyond its initial configuration. We will ensure that AWS is always aligned to your business strategy and continues to meet your business challenges.
Our AWS Consultants will ensure that your business achieves amazing things with Amazon Web Services. We provide strategic guidance and expert advisory services to help solve your business challenges and meet your business objectives by implementing one or more AWS products and platforms.
Hosting and ongoing support
We take pride in hosting your service by managing and maintaining your developmental changes every step of the way. Not only do we do the technical work but we also have the tools and knowledge to help your service run smoothly. We remain accountable for routine IT infrastructure monitoring, assessing the functionality to guarantee you are running at your optimum performance without interfering with the works of your system. This management system is a form of prevention rather than cure and should act to avoid any major problems from the offset. Should a problem occur, our around the clock monitoring service will resolve and troubleshoot any issues – allowing you to focus on your core business.
Our Managed Services include: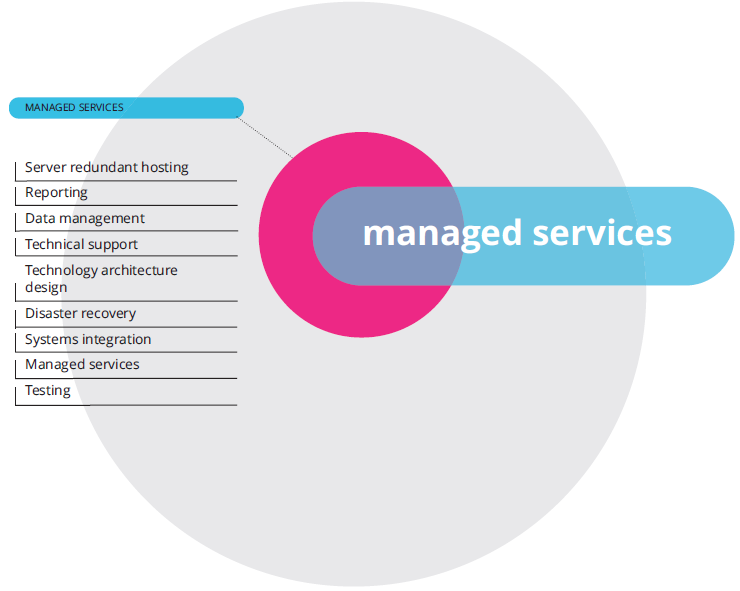 Ready to get started?
When you work with us, you know you're getting highly qualified professionals who have the expertise and experience to make sure your project is done properly and functions.